Post #212
28th January 2004, mid-afternoon | Comments (74)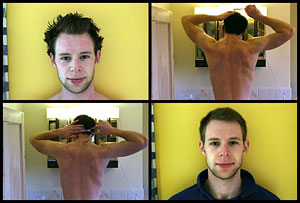 Ignoring my just-woke-up blotchy face and need-a-shave chin, please enjoy my first efforts at cutting my own hair.
Some parts didn't go exactly to plan, for instance I found that it is: a) terribly easy to cut your own knuckle off by mistake; b) a lot harder to cut the hair on the right-hand side of your head than the left; and that c) blindly trimming the back of your head taxes the brain-to-hand relationship as never before.
However, taking a broad view on the whole affair I think I can declare it a success: I escaped with only two minor wounds (which hardly bled at all once I bandaged them) and finished with much less hair on my head than when I started.
Job's a good'n.
Jump up to the start of the post ↑
---
---