Post #58
21st November 2003, late afternoon | Comments (31)
You may have noticed I'm using Stuart Langridge's Nice Title script on this site. With the help of Ethan I've made a couple of modifications to the original version, so I thought I'd highlight them here and let you grab a copy if you wanted.
The pause
A common complaint when Stuart's script was originally launched was the lack of delay present between mousing over a link and having the pop-up appear. (Browsers tend to have a pause before showing their pop-ups, letting you waft your mouse over groups of links without multiple boxes flickering madly on screen.)
Ethan put his Magic Brain™ to work and solved this problem with a neat little timer function. So now we have a customisable delay between mousing over a link (or tabbing focus to it), and having the pop-up appear. It's currently set to 0.6 seconds on this site, which seems to be the same as the browser's own delay. Please Let me know if that's too much, or not enough.
Access keys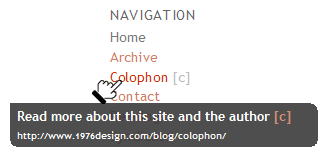 Access keys are a handy way to access web site links via the keyboard. Some of the links on this site have access keys associated with them (specifically the main navigation links) and I wanted to be able to show this information in the pop-ups. In the image that accompanies this post you should be able to see that the access key (the letter 'c' in this case) is displayed in the pop-up. (It's also shown beside the menu item itself, but that's down to some CSS in my main style sheet.)
img, ins and del
This version of the code also works for images that are linked, sections that have been inserted and marked with the ins tag, and sections that have been deleted and marked with the del tag. I must admit to simply bringing a couple of different versions of the code together for that, mainly from the work of Peter Janes.
Anyway, that's the lot. Thanks again to Stuart (for starting it), and to Peter and Ethan (for doing the bits I couldn't). Feel free to grab the code here and improve on anything we've done.
Jump up to the start of the post ↑
---
---