29th December 2003, early evening | Comments (28)
Well well, after a nice break for Christmas, I returned to my blog to find two rather annoying things: firstly some complete arse has taken to posting aggressive and rude comments here; and secondly, that a very busy site had linked directly to the three greetings cards I displayed in an earlier post, with no mention of me or my site (I left a comment, but they didn't do anything about it).
How was I to deal with those two things with a tummy full of turkey?…
View this post in full (814 words).
---
29th December 2003, late morning | Comments (9)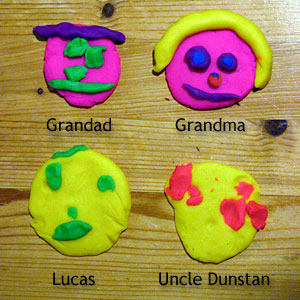 My nephew, Lucas, made some playdo people last night while his mum and dad and I were at the cinema watching Lord of The Rings.
I understand he had some help with 'Grandma' (and possibly with 'Grandad'), but 'Uncle Dunstan' was all his own work.
He's two and a half.
---