Post #47
11th November 2003, lunch time | Comments (5)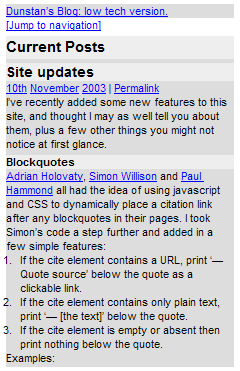 A nice man at Opera just told me about very neat feature in the latest versions of their browser:
The basic idea is to use different stylesheet for different devices. You can see how it works by downloading the latest Windows/Linux version of Opera from and browse to www.opera.com or my.opera.com. Hit SHIFT-F11. On any regular site this will reformat the page to fit the screen width of a mobile phone (using our Small-Screen Rendering technology), but on our own properties we have designed a special handheld stylesheet. If browsing there with the mobile version of Opera, this stylesheet will automatically be used.

This is all part of CSS (just like media screen, print, projection etc), but Opera is the first browser to support it. We are now trying hard to promote it do developers. The additional work needed to create a mobile version is quite limited, especially on sites such as your own with very clean XHTML+CSS code.
Bravo Opera. I'm going to be looking in to the area of web standards support on mobile devices more closely in the coming months, and Opera are helping kick off the project by loaning me a device to test.
New gadgets + Dunstan = Happy Dunstan.
Jump up to the start of the post ↑
---
---