Post #19
27th September 2003, lunch time | Comments (2)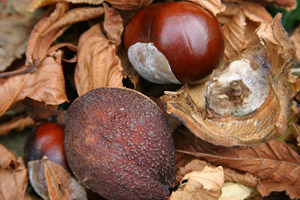 My parents have just come back from a dear-friend's funeral, a chap called Rex Haythornethwaite.
Rex's Claim to Fame was that he was once quoted in the national papers in Britain as saying women weren't strong enough to enter his village Conker Championship; a competition he had devised and organised.
It was, apparently, one of those throw-away comments — Why aren't there any women in your competition? Oh, they're not strong enough, we tried it once and ended up standing around all day waiting for them to break the damn things — that makes its way into the public eye and is seized upon by the media. Everyone in the village, women included, were perfectly happy with the current state of affairs, but public pressure eventually led to the formation of a women-only competition running side-by-side with the mens'.
It created a bit of a media storm though (if you can believe it), and resulted in people from all over the world writing to Rex to ask what "Conkers" was.
For those who don't know what the game of Conkers is, you can read more courtesy of Google.
When I was a child, one of the few thoughts running through my brain at this time of year was Must. Get. Conkers. In typical childhood manner, this one thing ruled my life for a few short weeks. Each morning as my brother and I waited for our school bus to come, we would while away the time throwing sticks up into the branches of our Belgium neighbour's conker tree:
*ignore millions of conkers on the floor*
Oooh, there's one!
Where?
Up there, it's huge!
*get stick*
*throw stick*
*miss*
*throw stick*
*miss*
*run from falling stick*
*repeat until tired*
I remember the son (a few years younger than me and a nice lad) of our Belgium neighbour coming to see what we were doing. As a friendly gesture, and at my brother's prompting, I gave him the largest of the recently acquired conkers, only to watch in horror as he placed it on the ground and stamped on it.
Alastair and I, fighting off nausea and the urge to thump the little waffle-eating monster, tried to explain via sign language that conkers were not (ever!) to be stamped on, rather they were to be loved, polished and cared for, to be given pride of place on your bedside table at night, and to be displayed at school as a measure of manhood. They were not there to be crushed underfoot like a continental truffle.
Belgium, I suppose, is not a conkering nation.
At my school the conker season was a regular part of life, recent years, however, have seen a decline in the game with headlines such as Conkers Hit by Legal Fears — Playground favourites such as conkers are being banned because schools fear they will be sued if children get injured, says a survey messing thing up for everyone.
People like Rex, lovely chap that he was, are doing their best to keep the tradition alive. Long may it continue.
Jump up to the start of the post ↑
---
---