Post #264
3rd March 2004, the wee hours | Comments (40)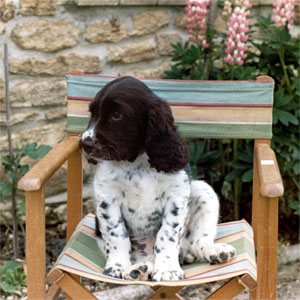 When I was five, my toy Bear, Ben, stole my brother's sweets and ate them. Despite my protestations, I got the blame. Later that year Ben broke a vase, and although circumstantial evidence pointed strongly at the stuffed animal, I was once again the focus of parental discipline.
When I was six, Ben kicked a puppy because it wouldn't sit on command. He dislocated its shoulder with the blow.
When I was seven, I announced, in Church, that I was giving up picking my nose for Lent.
When I was eight, I told my school assembly that knowingly accepting too much change from a small shop was stealing, but taking more than you were owed from a large shop was okay, because they could afford it. Or at least that's what my Mum says… The Headmistress phoned my mother to tell her of my speech.
When I was nine, my brother caught me kissing the Scottish Widows lady on the TV screen.
When I was ten, I took my mum's best bucket and went fishing for newts at the local gravel pits. When Mum came looking for me, she found me walking back through a field of long grass, naked and wet, having had to dive into the pond to rescue the precious bucket when the string broke. Equal amounts of anger and amusement were rained down upon me.
When I was eleven, I kicked my brother in the head with my wellie boots. I'm still ashamed, though he probably doesn't remember the incident.
When I was twelve, and on First Form Camp, I was wrongly accused of talking after lights-out (James Beverley was the true culprit) and was dragged from my tent to run up and down in the cold, wearing only one wellie and my underpants. I was also accused of throwing a knife into a tent (Beverley again) and endangering everyone by climbing a rock (okay, that was me).
When I was thirteen, I accidentally hit a boy in the eye with a tennis ball during a match. The teachers said I was good enough to have aimed it deliberately and disqualified me from the championship. I didn't know whether to protect my good name, or my (previously unrealised) fame as a dead-shot tennis player.
When I was fourteen, I was too shy to ask a girl for a kiss, so each lunchtime (and much to our mutual embarrassment) Kate Knapman and I simply walked 'round and 'round the school holding hands. Guy Trust sang Vanilla Ice's "Ice, Ice Baby" to us out the window of the common room. Not very helpful.
When I was fifteen, I went on a scout camp with James Beverly. We drove a British Leyland Princess, used trigonometry to cross a fake river, cooked sausages over a fire, and gave food poisoning to a girl named Polly. We both fell in love with her. She later fell in love with him. They're getting married in July.
When I was sixteen, I went to Guy's house and accidentally broke one of his parents' expensive decorative plates. I ran off before they came home, and I've been terribly embarrassed about it ever since.
When I was seventeen, I couldn't cope with girls.
When I was eighteen, I had a brain-haemorrhage doing weights.
When I was nineteen, I pinched thirty-two used plastic pint glasses from our Student Union Bar, and gave them as a present to a girl I liked. She didn't sleep with me. Fancy that.
When I was twenty-two, I dreamt of killing my boss.
When I was twenty-three, and in the interests of Dunstan's Beard Re-Growth Research, I plucked the beard from one half of my face, and shaved the beard on other half. It hurt. A lot. And I've since forgotten the outcome of the experiment.
When I was twenty-five, I lost my girlfriend, my house, and my job in the space of two weeks. To escape I flew to Tucson, Arizona and met bank robbers, drug addicts, and trailer dwellers. A stripper mistook me for a Government official. The trip saved my life.
When I was twenty-six, I rode horses in Colorado and camped in the Italian Alps. I lived in the English countryside and didn't see people, other than my parents, for weeks at a time. I didn't get over the loss of my girlfriend.
When I was 27, [is still an ongoing project].
Jump up to the start of the post ↑
---
---