23rd February 2004, late at night | Comments (16)
I took these the other day when I took Poppy for a walk.
You know, I could really do with another person to help when I'm taking photos of her. Pointing and saying Go there... no, there... look, Poppy, Poppy! Yes, good girl, now go there... look, here's a stick, see? Fetch it! Go on! There. No, fetch it... alright, yes, very good, now, stay, stay... no, stay! Oh, forget it. Yes, good girl, well done, no, off, off! just doesn't seem to work.
Plus, the sight of me lying down on the ground (which I usually do when I photograph animals) seems irresistible to her, and she ends up leaping all over me, licking me to death.
Daft animal :o)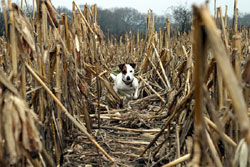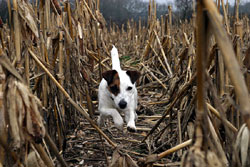 ---