Post #486
16th September 2004, early afternoon | Comments (28)

A few weeks ago I hooked up with Jonas, and his new co-worker, Ram, for a trip to Jackson Arms Shooting Range. I've never fired anything more deadly than an air-gun (or a 'beebee' gun for the americans among us), but I've always wondered what a real gun would feel like, so when I saw on his site that Jonas had membership at a range, I asked him straight away if he would give me a lesson:
Dunstan

So, will you?

Jonas

Oh ya, ve vill go and shoot ze paper men, unt den you vill love ze guns!
Jonas picked me up from South San Francisco Cal Train station and we headed on over to Jackson Arms to start the fun.
I'm not a gun advocate
Now, before I continue and run the risk being labelled a gun nut, I should say that I'm not. I'm not a gun nut. I know that's not much of a rebutal argument, but it's the truth.
Sure I spent every waking moment from the ages of four to eleven dressed in combat gear; and yes, each christmas my wish list was topped with: (1) New Machine Gun, (2) Actual Working Bazooka, (3) Real Hand-Grenades; and granted I once got my mother to dye all my underwear camo-green, but I tell you, I'm not a gun nut.
And you know why I'm not a gun nut? Because at the age of eleven I realised that I wasn't the only one allowed to own a gun, that other people had them too, and that because of that, I could die. Once I realised that not every enemy soldier shoots like Colonel Decker's Men in the A-Team, I didn't want any part of it. The fantasy ended.
So, now you're no longer viewing me as an NRA devotee, let me continue…
Paperwork
On arrival at the range we presented our IDs to the guy behind the counter, and were asked to fill out a series of forms, disclaimers, and questionnaires, like the one shown below: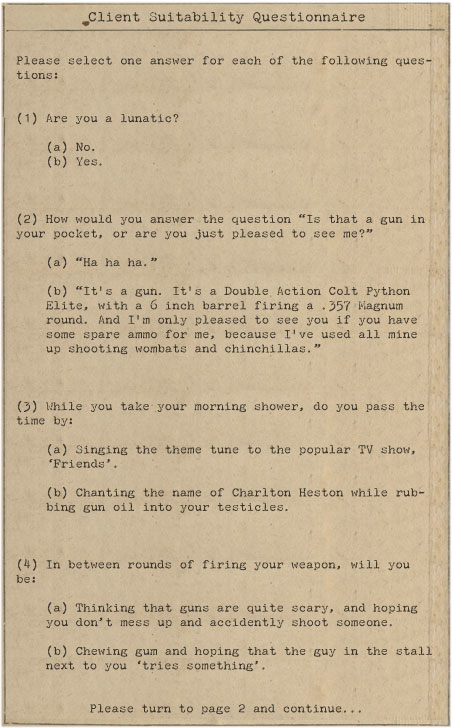 With our paper work complete, Jonas carefully picked out a gun for Ram and I to use. He chose a Glock 17, which is by all accounts a pretty amazing weapon, and suitable for both experts and beginners.
Here's a few images of the gun, so you have some idea of what we were using (images courtesy of some random site I found):

Once we'd been approved and had our gun prepared, we popped on our ear-protectors and safety glasses, and Jonas led us into the firing range.
Entering the range
The noise when we first entered the room was incredible. Standing in the shop we'd heard the crack of distant shots, but once in the range, without walls and doors to act as filters, the sound really was very loud indeed. Trying to ignore the shots being fired around us, Ram and I listened and watched as Jonas explained the workings of our Glock, the target system, and the idea that a weapon is never considered empty, no matter what it looks like.
About halfway through his commentary a noise like overhead-thunder ripped through the range, drowning out Jonas's words, and causing my internal organs to go numb. I leaned back and looked around the partition that divided us from the shooters in the next stall. What the hell was that? I asked the three guys standing there. They turned, grinned, and said proudly, .44 Magnum, holding the gun up so I could see. Jesus, that was… loud, Damn right the shooter said, before he turned back to his target, and I turned back to my lesson.
When Jonas was satisfied we'd taken in everything he said, Ram and I had one shot each to get used to the feel and sound of the gun, and also to experience its recoil. I'd been harbouring the fear that I wouldn't be very good at shooting, but my first effort hit center at 21ft and all my worries vanished.
After few more warm up shots on a shared target we switched to firing six rounds at a time and using our own targets, so we could keep track of our performance. I fired twelve rounds from 21ft, six rounds from about 35ft, and a final 12 rounds from 50ft (the maximum distance on this range). I had a few stray 8s at 50ft, but all in all I was pretty pleased with my scores. Never having shot before and hitting mostly 9s and 10s from 50ft ain't bad.
How I shoot a gun
If you're interested, here's a breakdown of what I did each time:
I walk up to the shooting table.
I attach my paper target to the target clips (two bulldog clips welded to a metal frame, suspended from two wires which run the length of the range).
I flick a switch, and run the target out to whatever distance I chose.
I pick up the empty gun magazine in my left hand.
I push six bullets into it, one after another.
I pick up the gun in my right hand.
I push the magazine into the butt of the gun, and click it home.
I swap the gun into my left hand.
I use my right hand to pull back the gun's slide, and then let it slip forward until the gun is set to fire.
I swap the gun back to my right hand and rest my right index finger along the side of the gun.
I take my stance: hips almost square to the target, left foot slightly forward, leaning slightly into the waist-high bar in front of me.
I rest the butt of the gun in the palm of my left hand, place my left index finger underneath and along the front of the trigger guard, and curl the rest of my fingers around my right hand.
With the majority of its weight resting in my left hand, I raise the gun and align the front and rear sights at the centre of the target.
My right index finger slips into the trigger guard, and lightly takes up pressure on the trigger.
I breathe in 2/3rds of a breath, hold it, and gently squeeze the trigger until the gun goes BANG.
The recoil forces the gun up until my elbows are bent to about 120 degrees. The empty shell casing ejects out the side of the gun, hitting the wall next to me and ricochetting past my head.
My senses recover from the noise, and I peer down the range to see where my shot struck.
I either nod, or shake my head at what I see, breathe out then in, and raise the gun for the next shot.
When all six bullets have been fired, the gun slide jams in the open position.
I push the button that ejects the magazine, then place the gun and magazine on the table.
I flick the switch that reels in the target. I take a good look at where the new holes sit, remove the target from its clips, and step back to allow Ram his turn.
Ram was kind enough to take a wee (384kb MPEG) video clip of me shooting two shots from 35ft, and while it's pretty small and dark, you can at least get some idea of what it was like at the range. (The other shots you can hear are from the guys next door to us. They were firing a similar 9mm gun to us at that point.)
Summary
All in all I had a very interesting time, and I'm glad I went, so thanks to Jonas for taking me, and to Ram for the company. If you've never shot a gun before and wonder what it's like, I can recommend giving it a go. Just be sure to remember what it is you're handling, and that by visiting shooting ranges you're probably helping fund arseholes like this.
Note: Please keep any comments relevant to the experiences I've written about here; I'm not interested in you re-hashing the pro-/anti-gun debate and I'll happily remove any rants that get posted. Merci beaucoup.
Jump up to the start of the post ↑
---
---